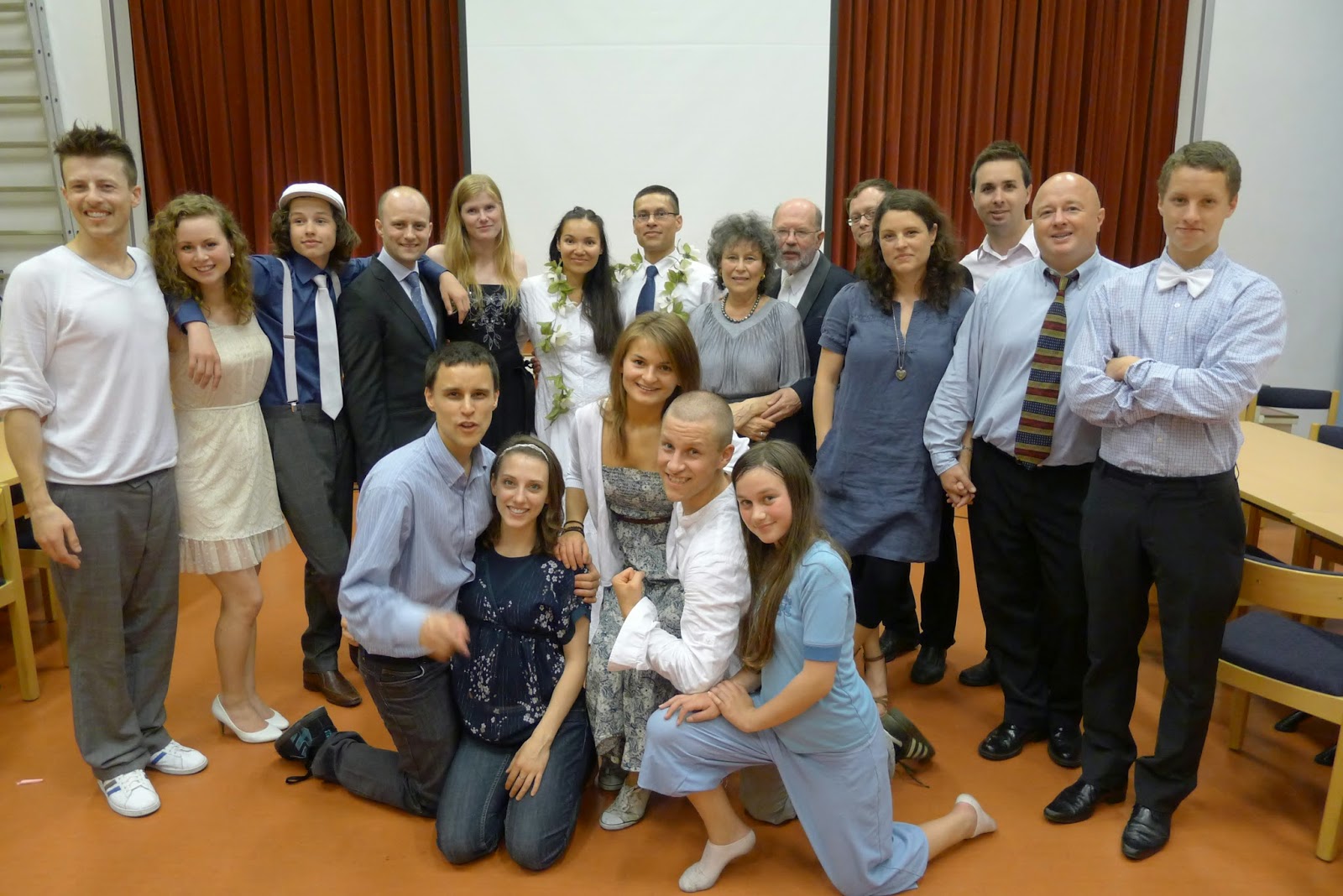 Jeg tror det var mamma som sa det først. Og jeg tror det var i forbindelse med Magnus og Tanzilya sitt bryllup for 3 år siden. Eller kanskje Marcel og Lotta sitt? Eller 40 års bryllupsdagen til mamma og pappa? Uansett. 'Charming Henriksen Madness' beskriver familiesammenkomstene våre. Vi bor spredt, og vi er mange, så vi treffes ikke så ofte alle sammen samtidig. Derfor forsøker vi å få til i hvert fall èn stor samling i året. Etter årets samling er vi blitt enige om å prøve å ha den faste samme helgen hvert år, hvilket vil gjøre planleggingen litt enklere. (Og vi er litt gærne. På en stort sett god måte.)
I år var det mamma's 70-års dag. Hun begynte å mumle om det allerede sommeren for to år siden; den siste helgen i juni 2014 ville hun ha hele familien samlet. 'No empty chairs!' Alle åtte barna, med partnere og barn. Og kusinene hennes fra Sveits.
En ting du må vite om mamma og pappa, er at de begge er enebarn, og at ingen av foreldrene deres lever lenger. Det er 'bare' oss. Vi har altså  ingen besteforeldre, tanter og onkler eller fettere eller kusiner. Så familiesammenkomstene blir ganske interne og ganske intense. (All ære til Michelle's ferske kjæreste som tok sjansen på å treffe hele gjengen for første gang på èn gang!)
En eller annen hadde den lyse ideen at vi burde leie et hus der vi kunne samles alle sammen, i nærheten av der mamma og pappa bor, og der de tilreisende kunne overnatte. Litt lettere sagt enn gjort, men vi endte med et helt supert hus i sjøkanten bare et par minutters kjøretur fra mamma og pappa, som vi fant på FINN.no 
Boris og Marcel med sine respektive familier tilbragte faktisk hele uken fram til bursdagshelgen der, mens vi ankom natt til fredag, og Ranya og Norah kom på ettermiddagen på fredagen. Det ble stor gjensynsglede med Michelle, som har vært stasjonert på Østlandet, og som dro rett fra leiren til Tønsberg.
De sveitsiske kusinene til mamma (det nærmeste hun kommer søsken)  ankom torsdag med fly, og kjørte nedover sammen med ElRay på fredagen.
Fredagen gikk ellers med til en shoppingrunde med bursdagsbarnet, blomsterplukking og litt andre forberedelser til lørdagen.
Fredag kveld  bestilte vi indisk take away, og koste oss i huset, og mamma fikk gavene sine.
Lørdagen hadde vi frivillig morgenyoga i hagen med Lotta, felles brunsj midt på dagen, og så var det matlaging og de siste forberedelsene til kvelden.
Fordi det er ganske mange små  etterhvert (8 under 5år) , så hadde vi lagt opp til en ganske tidlig feiring, slik at vi kunne bli ferdig tidsnok til at de minste kunne komme seg i seng til omtrent normal tid.
Vi dekket buffet, der alle hadde med seg en rett eller fler. Med både vegetarianere, veganere og noen med diverse matintoleranser kan det være litt vanskelig å finne noe som passer for alle – så buffet er absolutt enklest, og fungerte bra.
ElRay og jeg var konferansierer for kvelden, og vi hadde delt kvelden inn i bolker som skulle representere hvert tiår av mammas liv, med underholdningsinnslag fra (nesten) alle, og allsang innimellom – obligatorisk med denne Musicalgale gjengen vår. Vi startet med å plassere mamma på en stol midt på gulvet med det aller yngste barnebarnet i fanget: Wes  – som ble født bare en uke tidligere. Resten av oss sto rundt og sang 'Circle of Life' fra The Lion King. Mamma ble født i Afrika, så vi syntes det passet godt. Super cheesy, men wow… Jeg fikk frysninger, og tårene trillet der jeg sto og så på hele den store gjengen vi er blitt.
Eksempler på  innslag var 'The Begat' fra musicalen 'Finnian's Rainbow', (fant video fra filmen på Youtube. Selve sangen begynner på 2:25, hvis du vil høre den) de store barnebarna som sang egenkomponert  tekst til Mormor til melodien til Tirna Noir, Marcel som danset ballett akkompagnert av Lotta på fløyte, en medley av franske barnesanger som guttene sang til mamma, og quiz der mamma (og vi andre)  skulle gjette hvem som var hvem av 12 babybilder hun fikk presentert, en god blanding av barn og barnebarn. Det var vanskeligere enn vi trodde! Vi hadde også lagt inn både 'Bjørnen sover' og 'Bro, Bro Brille' – egentlig med tanke på de små, men det var de store som var mest engasjert! Høydepunktet var kanskje dramatiseringen av hvordan mamma og pappa traff hverandre i London i 1970. (Takk Marcel og Lotta!) Magnus filmet en del den kvelden, så jeg håper virkelig han har fått det på tape. Jeg tok mest bilder på fredagen – typisk nok.
Vi holdt tidskjemaet (nesten) og var ferdige med rydding og oppvask allerede halv ni. Det ble relativt tidlig kveld på de av oss som dro tilbake til i huset, men lett drøs og mumsing på kjøkkenet var ikke til å unngå…
Søndag morgen var det rydding  og utvask av huset, og etter å ha vært i kirken i Tønsberg, kjørte vi til Torp og avleverte bilen til Celine. Deretter fløy Simen hjem til Stavanger, og resten av oss fløy til London. Ferien kunne begynne! Og det var igrunnen veldig greit. Det hadde vært en ganske intens uke med pakking og forberedelser. Klarte vi å få til 'No empty chairs'? Ikke helt. Celine ble syk på lørdagen og lå helt helt utslått med feber på studenthybelen. Anton var på vei hjem fra jobbreise i Kenya, og Eliana og Micael var på vei til Danmark med Harry og foreldrene hans  på lørdagen. Men 28 av 32 er nå ganske bra, synes jeg. Jeg gleder meg til neste år. Familiebånd og minner skjer ikke av seg selv. De må faktisk planlegges og skapes, særlig når avstand og antall gjør sitt til at man kan tenke at nei, dette blir for stress og vanskelig.
Litt stress og litt vanskelig – ja. Men absolutt verdt det!
Mine tips til planlegging av familietreff:
Bestem dato for neste gang allerede før alle drar hver til sitt. F.eks så vet alle allerede nå at vi treffes neste gang siste helgen i juni 2015.
Keep it simple! Vi er en særdeles uformell familie. Men jo enklere opplegg, jo lettere å få alle med. Denne gangen feiret vi et rundt tall, så det ble litt mer omfattende. Neste gang tenker jeg det blir mer type picnic på stranden og leker for alle. Papptallerkner til de 'uvesentlige' måltidene, take away mat til enkelte måltider så ikke noen må stå på kjøkkenet hele tiden…
Deleger, deleger, deleger … Men følg opp! Forsommeren er travel, og detaljer kan lett gå i glemmeboken. Noen ganger kan det man tror er den enkleste sak i verden for noen fortone seg som et superstressmoment. Finn ut hva folk har lyst å bidra med, ikke ta for gitt at den og den vil lage mat, og den eller den vil holde tale.
Kommunikasjon i forkant: Ikke anta at partnere og ektefeller har fått med seg detaljene selv om det er sendt mail til èn av partene. Sørg for at alle de voksne får mail, sms, facebookmeldinger.
Ha en backup plan. Jeg hadde sett for meg et hageselskap, og sto litt imot å ha selve festen på lørdagen i et annet lokale. Det endte opp med å regne den kvelden, og det hadde blitt kaotisk inne i huset med så mange, og særlig så mange små. Jeg var veldig glad for at Boris sto på sitt der.
Ha et slags budsjett og fordel kostnadene tidlig, så alle vet hva de trenger å bidra med. Det vil alltid være noen som kan og vil bidra mer enn andre, og det er helt ok. Med søsken som er alt fra tidlig i etableringsfasen til godt etablerte vil det alltid være litt forskjeller – men min erfaring er at alle gjerne vil bidra med noe.
Slipp kameraene løs! Jo flere som tar bilder, jo flere minner samlet i etterkant.
Slapp av! Kos deg og nyt samværet. Ta deg tid til å kose deg med å se fettere og kusiner leke og le og prate. Og nusse!
Fettere. 23 års aldersforskjell.
English Translation:
I think mummy was the one who coined it first. Was it at Magnus and Tanzilya' s wedding? Or maybe  Marcel and Lotta's? Or was it at their 40th wedding anniversary? Whatever. 'Charming Henriksen Madness' is the perfect description of our family get togethers. We live spread out, and there are quite a few of us, so we don't get to see each other all together very often. Which is why we try to gather at least once a year. After this year's reunion we agreed, or at least suggested, that we try to do it the same weekend every year, to simplify planning. (And yes, we are a little mad.  Mostly in a good way though.)
This year was mummy's 70th birthday. She started mumbling about it two years ago. The last weekend of June 2014 she wanted us all together:'No empty chairs!' All eight siblings, with partners and children – and her two cousins from Switzerland.
One thing you should know about my parents, is that they are both only children, and their parents are no longer with us. That means that we have no grandparents, uncles or aunts or cousins. It really is 'just us'. So our family reunions are pretty internal and pretty intense. Cudos to Michelle's new boyfriend who was brave enough to meet the whole bunch at once for the very first time!
Someone had the bright idea that we should rent a house close to my parent's apartment, large enough to fit us all for meals and activities, and where those travelling a longer distance could stay the night. It turned out to be easier said than done, but we ended up renting a beautiful house really close to both my parent's and the beach. Thank you Boris for finding it, and Celine for checking out the premises ahead of time!
Two of my brothers with their respective families actually ended up spending most of the week leading up to the birthday weekend there. We arrived late Thursday night, Ranya came Friday with Norah. Everybody was thrilled to see Michelle again, who came straight from military service close to Oslo.
Mummy's Swiss cousins (the closest thing to siblings she has) arrived in Oslo on the Thursday, and drove down with ElRay on the Friday. The Friday was otherwise spent taking the birthday girl shopping, picking flowers and getting stuff ready for Saturday.
Friday evening we ordered Indian Take Away, hung out at the house and mummy opened her gifts.
Later that evening, some of us went to the location where we were planning on having the celebration Saturday evening to set up. We decorated the room with lots of mummy's favorite flowers, photo garlands with pictures of mummy fastened to string with pink clothes pins, pink table cloths and purple napkins. I'm sorry – no pictures. My bad.
Saturday morning those who wanted to, had Yoga in the garden with Lotta. Then we had a simple brunch, and then spent the rest of the early afternoon food prepping and  collecting the late comers from the train station.
Because there are quite a few little ones now (8 under 5!) we had planned the main program to run fairly early to ensure that the youngest could get to bed at a semi-normal hour.
We had opted for a potluck buffet style dinner. With both vegetarians, vegans, raw vegans and a couple of people with diverse food allergies, it can be tricky finding something to suit everybody. So a buffet is super simple and worked well. I always worry that there won't be enough food, but I have yet to leave hungry…
My brother ElRay and I were in charge of the evening program, and we had divided the evening into 7 parts, one for each decade of mummy's life. Pretty much everyone contributed with some kind of entertainment. And there was lots of singing – inevitable with our musical crazed family. We started out by placing mummy on a chair in the middle of the room holding the family's newest member: Wes, who was born just a week earlier. The rest of us stood in a circle around them and sang 'Circle of Life' from The Lion King. Mummy was actually born in Africa, so it was totally appropriate, although super cheesy. But wow. I had goosebumps all over and tears welled up in my eyes as I stood there watching this huge bunch of people that our family has become.
Examples of entertainment were singing  'The Begat' from the musical 'Finnian's Rainbow', (I found a video on Youtube with the song from the film The song starts at 2:25, if you want to hear it. So funny). The older grandchildren sang their own lyrics to 'Tirna Noir' as an homage to their grandma, accompanied by Benjamin on the guitar. Marcel danced ballet, accompanied by Lotta on the flute, the boys sang a medley of French childrens songs, we had a baby picture quiz, and a few games for the smaller children, although the bigger ones seemed to be the most involved! The highlight of the evening was probably Marcel and Lotta's sketch of how mummy and daddy met in 1970. Hilarious! Magnus filmed parts of the evening. I really hope he got that on tape. I hardly took any pictures on the Saturday, I certainly hope some of the others did!
We almost managed to stick to our schedule, and by eight thirty clean up was completed, and those of us staying in town could head back to the house, where we munched on leftovers and chatted and enjoyed each other's company.
Sunday morning we cleaned out the house, and after church in Tønsberg, we drove to Torp to leave the car with Celine. Simen headed back to Stavanger, and JB, me and the two youngest boys headed for London. Our holiday could begin! Which was actually kind of nice. It had been quite an intense week of packing and planning. Did we mange  'No empty chairs'? Not quite. Celine came down with the flu on Saturday and missed the whole day. Anton was travellilng back from a work trip to Kenya. And Eliana and Micael were headed to Denmark with Harry and his parents on the Saturday. But 28 out of 32 isn't too shabby. And there is always next year. 🙂 Family memories and strong family ties don't just happen randomly. They do have to be planned. Especially when numbers and distance make it tempting to say no, this is just too hard and too much stress.
A little stressful and a little hard – Yes! But totally worth it.
So here are my tips for planning a successful family gathering:
Set the date for the next one while you are still together. Now everybody knows that we will be meeting again next year the last weekend in June.
Keep it simple! We are the epitome of informal in our famliy, but seriously, the simpler the better. This year we were celebrating a big birthday, so we kind of pulled out some more stops. But next year I'm thinking more along the lines of picnic on the beach and games for all. Use paper plates for the simpler meals, and order take away for some of the meals so nobody has to be on kitchen duty all the time.
Delegate, delegate, delegate… But follow up! Spring is crazy busy for most of us, and little things can fall off the radar. Do not assume that this person always wants to cook, or that person always wants to organize or give a speech. Find out what each person would like to contribute, and let them do that.
Communication up front: Don't assume that everyone knows the details because one of the partners/spouses has received an email. Make sure all the adults get all the emails, texts and facebook messages.
Have a backup plan. I wanted us to do a garden party, and resisted using a separate location for the Saturday Celebration. In the end, it rained Saturday evening, and the house would have been total chaos, especially with the little ones. I'm so glad my brother didn't budge on that one.
Have a kind of budget and split the costs early on, so everybody knows how much they need to contribute. There will always be some who can and will contribute more than others, and that is fine. With siblings ranging from young families just starting out to others more established, there will always be some differences, but my experience is that everybody wants to contribute something.
Let the cameras loose!The more people taking pictures, the more lovely memories afterwards.
Relax! Take time to just enjoy hanging out and watching the cousins play and talk and laugh. And cuddle!