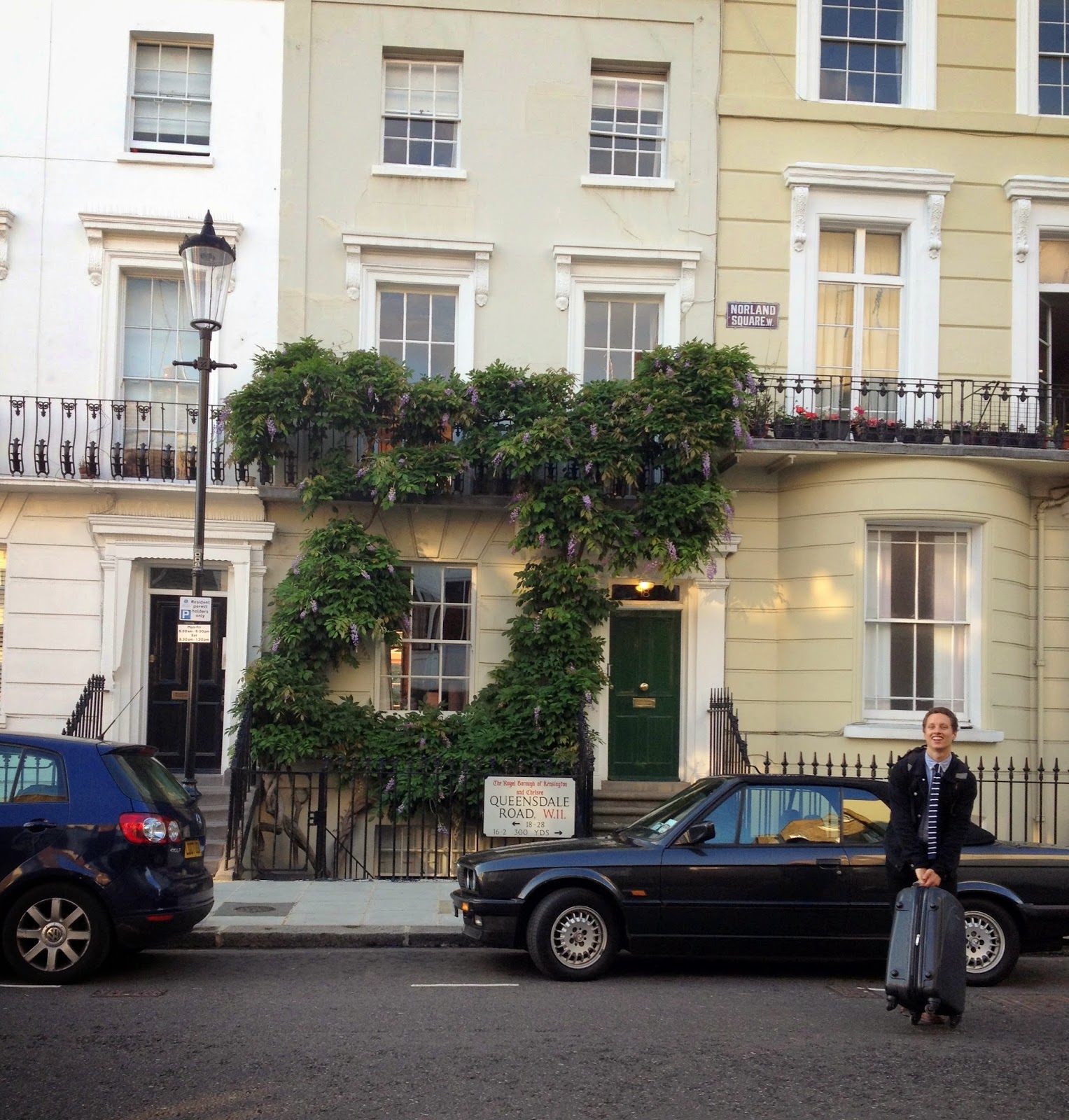 Sommeren 2014 ble annerledes. Annerledes enn tenkt. Annerledes enn før. Annerledes, men fin.
Vi er inne i en ny fase. Minstemann er 18. Vi er nesten 'empty nesters'. (Finnes det noe godt norsk ord for det forresten?)
Å si at vi snart sitter igjen med tomt rede er forresten en sannhet med modifikasjoner. 19 åringen skal riktignok til Oslo for å studere i høst, mens eldstemann som ikke har bodd hjemme på flere år, kommer hjem igjen – om enn midlertidig – og nesteldstemann som flyttet hjem midlertidig ifjor høst, ser ut til å bli litt lenger enn planlagt… Midlertidig er tydeligvis et svært relativt begrep… 🙂 Så når tre av fire faktisk fortsatt skal bo hjemme, så er det jo ikke halvtomt engang!
Det var en avsporing. – Tilbake til sommeren. Den opprinnelige planen var bilferie i Europa, med et sveip over til England med de to yngste. Bilferie er en ferieform vi i grunnen ikke har prøvd før. Men med tilgang til behagelig bil, og med tanke på at de to nevnte 'barna' ikke akkurat blir yngre – så tenkte vi at vi måtte  benytte sjansen mens de fortsatt var innstilt på å feriere med oss gamlingene.
Etter frisørbesøk. (Yay!)
Når det kom til stykket, viste det seg at de ikke var så veldig innstilt på ferie med oss likevel. Nesten tre uker i bil med mor og far var faktisk ikke aktuelt i det hele tatt… Dessuten hadde de begge lyst til, og behov for, å jobbe en del i sommer. Som de kjipe foreldrene vi er, lar vi dem nemlig pent betale bl.a. for førerkortet selv. Og det er som kjent ikke helt gratis. Ris til egen bak, eller noe sånt.
Dermed foreslo jeg en kompromissløsning. En uke i London med mor og far, og så 12 dager bilferie for oss gamlingene 'nedover i Europa'. Det viste seg å være en vinner.
Etter en helg med Charming Henriksen Madness i slutten av Juni , så satte vi oss på flyet i retning London.
Det var første gang vi prøvde oss på Ryanair, siden vi befant oss i nærheten av Torp allerede. Det gikk i grunnen bedre enn fryktet. Superlydig som jeg er, hadde jeg målt og veid både bagasje og håndbagasje, og utelukket alle de hendige små trillekoffertene og bagene vi hadde i huset fordi de var for tykke eller høye eller tunge, i forhold til de tillatte målene oppgitt på nettsidene. Til slutt hadde vi hver vår lille ryggsekk med, og en medium stor koffert med en bag inni til å ta unna det jeg forventet ville komme av shopping. Stor var overraskelsen når ingen sjekket håndbagasjen i det hele tatt, og vi observerte mange med trillekofferter og annen håndbagasje som helt klart var for store eller tunge. Ja, ja. Det er aldri feil å bli tvunget til å 'reise lett', og man klarer seg jo som regel med mye mindre enn det man har med.
Mamma – ikkje gidd!
Siden hotell i London ofte er både dyrt og dårlig og vi skulle være der i 6 netter, så leide vi leilighet gjennom Ivy Lettings. Et lite utleiebyrå som har spesialisert seg på å leie ut private leiligheter sentralt i London. Og leiligheten vi endte opp med var virkelig sentral. Faktisk mer enn vi kunne ha drømt om. Bitteliten – men helt perfekt for oss fire. Den lå  midt i Soho, i en ganske rolig bakgate, midt mellom Oxford Circus og Picadilly Circus.
Veldig, veldig, veldig sentralt…
Jeg hadde også lastet ned Hjartesmil sin London Guide på PDF, og vi pløyde oss gjennom en god del av anbefalingene – ihvertfall de som gjaldt Central London  – siden vi stort sett holdt oss der.
To minutt å gå fra leiligheten i Broadwick Street.
Chinatown. Fem minutt å gå fra leiligheten.
Skikkelig barbersalong. Jonah fikk ideen der til å klippe seg. (Yes!)
Vi hadde picnic i Hyde Park en dag også. Det ble en god del shopping, som forventet  – det var jo salg overalt – så kofferten og bagen ble fylt opp og vel så det. Tid for ny shoppestopp tenker jeg. (I'll get back to that…)
Star Wars Vans. Really?
Blomsterbutikken hos Liberty
på Camden market
i Carnaby Street
Vi lånte bysykler en dag (genialt!), men brukte for det meste undergrunnen (Megagenialt!). Vi kjøpte 7-dagers kort da vi ankom, og det var glimrende. (Og mye billigere enn å kjøpe enkeltbilletter.)
Været var kjempefint hele uken, til Benjamins bestyrtelse, som hadde planlagt alle outfitene sine før avreise, og pakket til det han trodde var typisk engelsk sommervær. 10 grader og grått, liksom. Men neida. Det regnet dagen vi ankom, og dagen vi dro. Ellers var det sol og minst 20 grader.
Camden Lock
Det beste ingefærølet vi noen gang har prøvd…
Det viste seg vrient å få med meg gutta på det, så jeg innvilget meg en halv dag alene så jeg kunne bruke så lang tid jeg ville. Og utstillingen skuffet ikke. Men jeg måtte le da jeg så at de besøkende besto av 99% damer, og et par forskremte forloveder som tydeligvis ville vært en helt annen plass… Hva er det med oss damer og brudekjoler? Som vanlig var det ikke lov å ta bilder inne på den ustillingen, så bildene her er fra resten av museet.
Jeg må være født i feil århundre…
Jeg brukte også god tid i Asia avdelingen. Sukk.
En halv dag var i grunnen for lite der. Neste gang tar jeg en hel dag. Vi var innom Science Museum også, som var bra, men det var utrolig bråkete med store mengder skoleklasser på besøk – (har de ikke sommerferie i England?)
Da jeg jobbet i SAS og hadde tilgang til billige standbybilletter ble det en god del turer til London. Faktisk ble jeg nesten litt lei til slutt. Men nå var det  lenge siden sist, (bortsett fra jobbtur i 2012), og både JB og jeg ble minnet på hvor mye mye vi elsker England og alt Engelsk: Trifle. Dr. Martens sko, Fish and Chips, den spesielle undergrunnslukten, parkene, høfligheten, køkulturen, humoren…
Mer ingefærøl. P|å Honest Burgers. Anbefales!
Men neste gang er jeg klar for litt mer engelsk countryside…Marte Marie – vær klar for innrykk! Storbyferie er fint – i små doser. Og 5 hele dager var akkurat passe…
English translation:
The summer of 2014 was different. Different than planned. Different than before. But still good.
We have entered a new phase. Our baby is 18. We are almost empty nesters!
Actually, to say that we are almost empty nesters is not quite accurate. Yes, the 19 year old is going to Oslo and starting University this fall, but our oldest – who has lived away for years, is coming home again – albeit temporarily, and the second oldest, who moved back home last fall temporarily, seems to be staying a little longer than planned. (Temporarily is obviously a very elastic concept…) So, with three out of four actually still living at home, I guess we can't even call ourselves half empty nesters.
But I digress.  Back to summer. The original plan was to drive through central Europe, and to cross the channel and spend a few days in England, with the two youngest. We've never really done a driving holiday before. But since we now have access to a very comfortable car, and keeping in mind that the two aforementioned 'children' are not getting any younger, we figured we had better go with them while they still wanted to spend the summer with us old folks.
When the planning started in earnest though, it turned out that they didn't really want to spend their summer with us after all. Almost three weeks in a car with mummy and daddy was actually not even an option, to be honest. And they both wanted to, and needed to – work,  at least parts of the summer.
So I came up with a compromise. A week in London with us, and then 12 days of driving in central Europe for the old folks. Alone. I felt kind of clever. And it worked.
So after our weekend of Charming Henriksen Madness at the end of June, we hopped on a plane and flew to London.
Since hotels in London tend to be both expensive and not very good, we rented a flat through Ivy Lettings. A small agency that specializes in renting out private flats in Central London. And the flat we ended up in really was very centrally located. Teeny tiny, but perfect for us. Smack in the middle of Soho, in a quiet back street, between Oxford Circus and Picadilly Circus.
I also downloaded Hjartesmil's London Guide on PDF, and we followed it religiously, at least the Central London part, since that was where we stayed most of the time.
I had read on a blog somewhere, that when travelling with teens, it was a good idea to hand over the planning and organizing to them, at least part of the time. So we did. The boys were each in charge of one day, and decided what we were doing, where we were going and where and when we would eat. They wanted to see a  musical and a few other tourist attractions, among other things. We ended up seeing the Lion King the Musical – (pricey, but worth it.) We dropped London Eye – (looooooong lines),  but we did do  Sea Life (cameras allowed) and London Dungeons (no cameras allowed) and had lunch on the bridge with a view of the Thames and Big Ben.
We had a picnic in Hyde Park. We did a lot of shopping, as expected. I think it's time for a new shopping ban. (I'll get back to that…)
Vi rented bikes one day.(Brilliant!) but mostly we took the underground (Megabrilliant!). We purchased 7 day Oyster cards on arrival, and they were perfect. And much, much cheaper than single tickets…
The weather was beautiful all week, much to Ben's dismay. He had planned all his outfits for what he assumed was typical English summer weather; About 10 degrees celsius and grey skies. Not so. It rained the day we arrived, and the day we left. The rest of the time it was at least 20 degrees and sunny.
As I have mentioned before, I am particularly fond of the Victoria & Albert Museum in South Kensington. The last time I was in London, I saw the amazing  'British Ballgowns'  exhibit. This time I wanted to see the 'Wedding Dresses' exhibit.
It proved difficult to get the boys to go with me for that, so I afforded myself half a day on my own so I didn't have to rush through it. And the exhibit did not disappoint. But I had to giggle when I saw that 99% of the visitors were indeed women. The only men I saw were obviously uncomfortable  and coerced boyfriends who wished they were elsewhere. What is it with girls and wedding dresses? As usual, for special exhibits, no cameras were allowed, so the pictures here are from the permanent exhibits.
I spent quite a while in the Asia department. Sigh. Half a day wasn't really enough. Next time I will take a full day there. We did go to the Science Museum as well, but it was terribly noisy and full of school classes. Don't they have summer holidays in England?
When I worked for SAS and had access to cheap standby tickets, I traveled to London quite a bit. In the end I was almost a bit fed up with London. But it had been a while now, and both JB and I were instantly reminded of why we love England and everything British: Trifle. Dr. Martens shoes, Fish and Chips, that special underground smell, the parks, the politeness, the queues, the sense of humour…
Next time though, I want to see more of the countryside. City holidays are fine – in small doses. And 5 whole days was just about perfect.