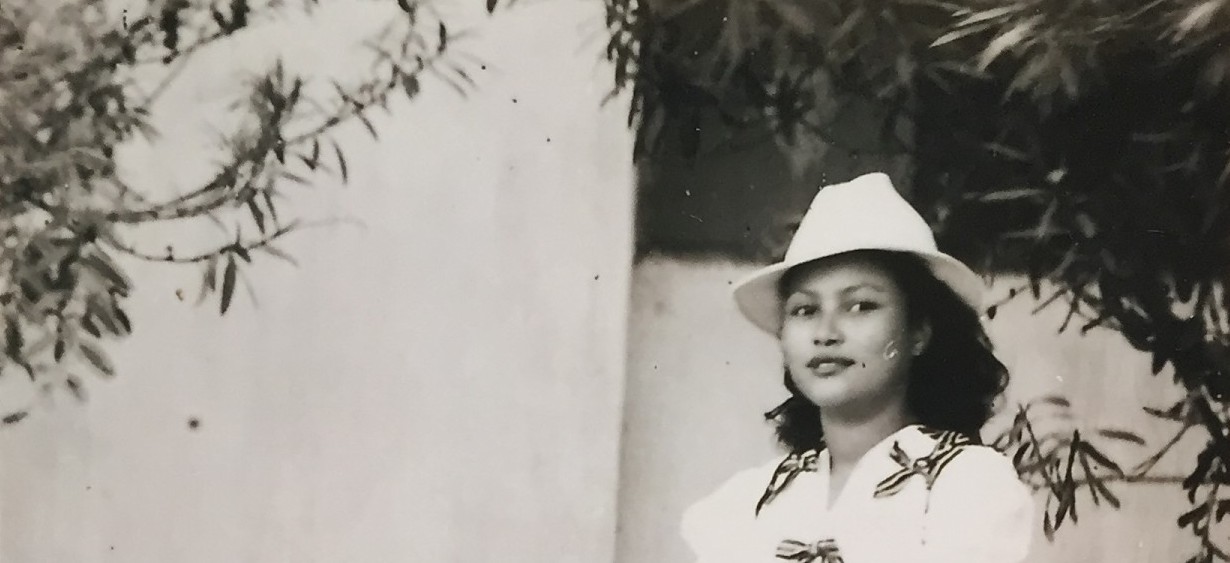 My maternal grandmother, Norah Lord, was born in West Africa, in the French Cameroons, on August 5th 1923. Her father was a British merchant, Henry Lord, and her mother was African and her name was Sophie Moussinga. Sophie passed away while Norah was still very young, maybe even giving birth to Norah, and so Norah was raised by her maternal grandmother; Ma Moussinga. She was a merchant who sailed from Douala to Senegal, stopping at all the ports along the way. Thus Norah ended up at a school for young girls in Senegal. We know very little about her childhood and youth, just that the whole family lived on the same farm, with Ma Moussinga as the matriarch, and with aunts and uncles and cousins in several houses on the family property.
Henry Lord later married a British woman and had other children, and Norah lived with them for a time, but was treated like a servant, which she did not much care for.
WWII erupted in 1939, and although there was no active warfare going on in West Africa, young people across the continent were anxious to contribute – among them my maternal grandfather who was in Nigeria; Eugene Schaer. He had heard that a part of the French Army – 'Les Francais Libres', was to be gathered by lake Chad. Norah had also heard this. So they both travelled there, from opposite directions. Both were rejected by the French Army – my grandfather because he was a Swiss national, and Switzerland was neutral, and Norah because she was too young. She had run away from home to join the army, but was only 17.
It was at Lake Chad my grandparents first met. Norah had already been there for a few weeks before my grandfather arrived. It did not take long before they became better acquainted. The governor was responsible for Norah, and had been instructed to return her to her family, but she refused to go back, and made up her mind to travel back to Kano in Nigeria with my grandfather instead, some 1000 miles away. He was forced to leave almost immediately, and she said she would follow as soon as she could. She had to wait and travel with a caravan made up of people making the trek together across the wilderness to avoid robbers and such. Norah travelled on horseback! En route they met a flock of elephants that charged towards them at one point, but Norah was unfazed. She pulled out her little box camera and took pictures of them, while others probably would have turned around and run away! (My mother still has some of these pictures.) The journey took six weeks, my mother says, and Norah arrived in Kano in the middle of the night.
There was a knock at the gate, and my grandfather wondered who it might be. It was his beloved.
Norah was a very special and brave woman. Everybody who ever met her remembered her. She was beautiful and classy. She made her own clothes and had ambitions to go to Paris and become a seamstress there. She was among the first to make crocodile handbags, and she shot the crocodiles herself. She would cut out the pattern for the handbags on the skins, make small holes for the stitches, and then send the skins off to be sewn into handbags and totes. She was an excellent horseback rider, and my grandparents would often race each other in the evenings.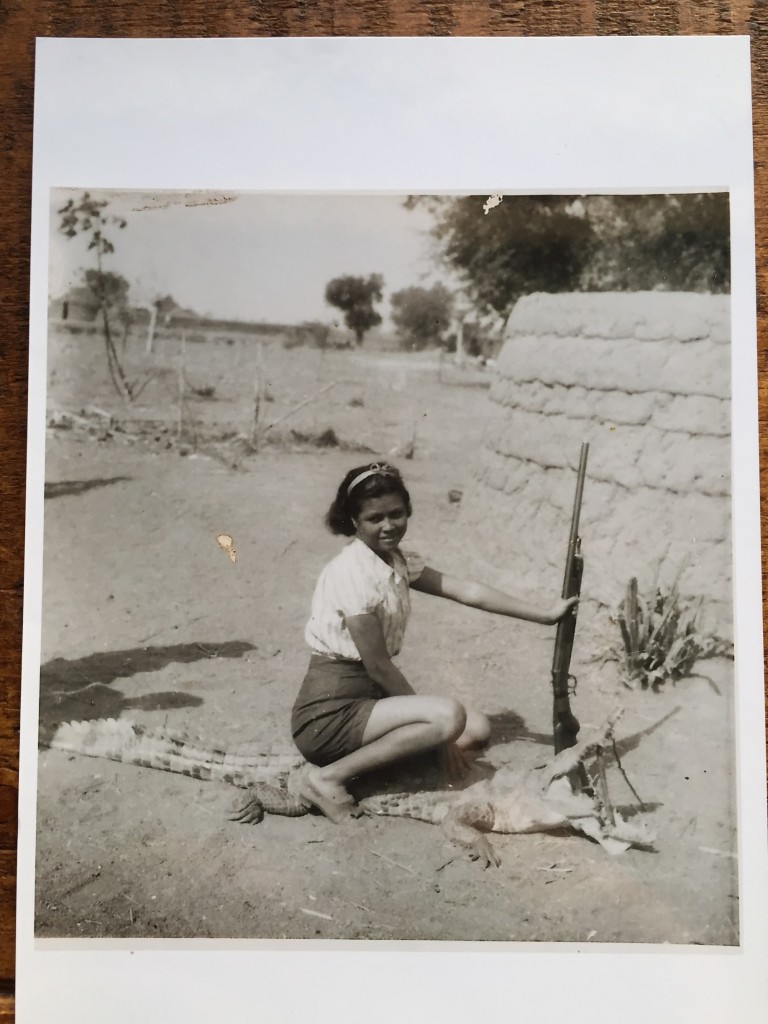 I believe they moved around a great deal while in Nigeria. My grandfather had different assignments through his job at ATM ( Amalgated Tin Mining company)  whom he worked for at the time.
They were married March 15th 1944, and my mother was born in June that same year.
Norah sadly passed away in November of 1945, only 22 years old. She had been suffering from terrible headaches for some time, and the doctor had said that she needed surgery. She did not want to spend time in hospital while on their planned holiday in Europe – Eugene's first in 8 years – so even though she was not in pain at the time, it was decided that she would have surgery in Nigeria at the hospital in Jos, which is also where my mother was born.
Because of the war, and lack of medical supplies, the hospital did not have ether to use as an anesthetic. They used chloroform instead, and Norah died of an allergic reaction, before the doctor even picked up the scalpel. It was a sudden and tragic death, which devastated my grandfather. Norah was the love of his life, and they only had 6 years together.
My most treasured temple moment is participating in the sealing of my maternal grandparents to each other, and my mother to them. In my mind's eye I  imagined my grandfather sweeping her up in his arms and joyfully exclaiming: "Now we will be together forever!"…