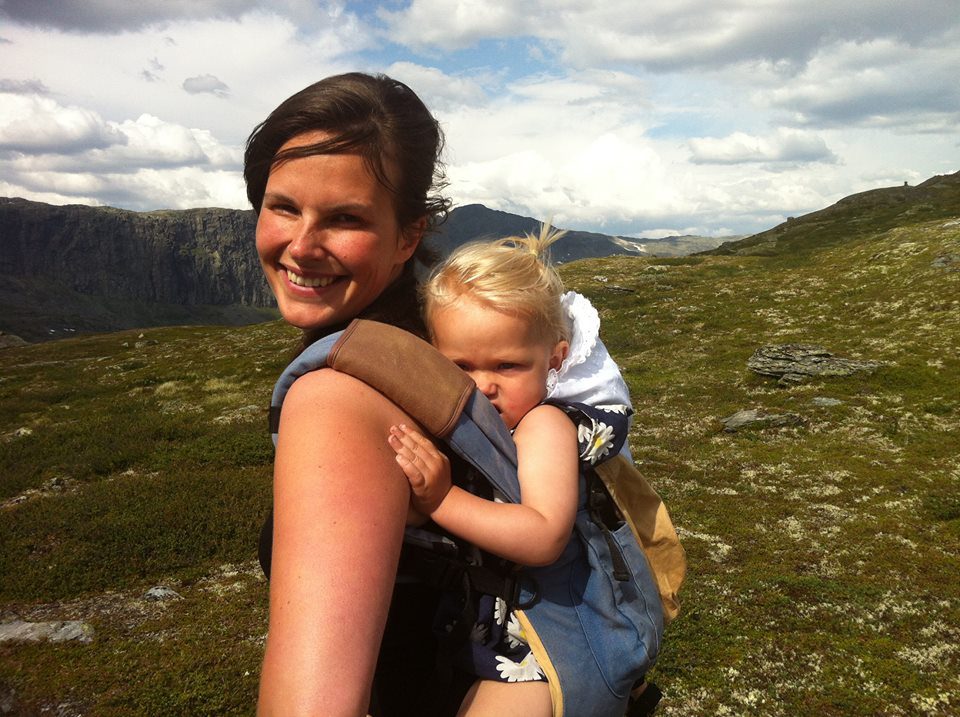 Shortly after I had made the decision to start this blog series, I discovered Eline's blog 'Mormonkvinner' (Mormon Women  in Norwegian) and read her post. It hit me like a ton of bricks, and I couldn't stop thinking about it for days. I almost felt like my own blog project was irrelevant and even superfluous compared to her's! But after a while I came to the conclusion that there is room for both of us.  Eline's story will be familiar to most of my Norwegian readers, as her story has previously been published online, and also in the local pages of the Norwegian Liahona – but her story deserves an even larger audience, and Eline has kindly allowed me to translate it and re-post it in my 'To be and Become' blog series. Enjoy!
So – I am a Mormon woman. I have mixed feelings about putting myself in a confined 'box' like that. I mean, I'm just me. But my faith is a big part of me, so yes, I'm a Mormon woman, and proud of it – and I've come to the conclusion that  it's a good 'box' to be in! I have been an active member of the Church of Jesus Christ of Latter Day Saints my whole life. My family and my in-laws are all, with a few exceptions, active members with tremendous faith. The gospel has always been a natural part of my life. I didn't have to defend it, fight for it, or even sacrifice much to remain active myself. Church was simply the looking glass I saw the world through.
A journey that meant a lot for my spiritual development, was a 3 month stay in rural Kenya while in my teens. The conditions were very primitive, and the poverty was overwhelming. But what faith the people had! They didn't revile God for what was hard in their lives, they praised and thanked Him. They acknowledged His hand in their lives. It really made me think, and helped put things in to perspective for me.
Another journey that helped develop me as a person, was a trip across the Atlantic ocean on a large sailing ship. One summer's day in 2001 I climbed aboard the 'Statsraad Lemkuhl'  and sailed to New York from Norway. I can still dream about climbing up the 130 foot mast and feeling the wind blowing in my face. SeaTrek, which was the name of the event, was a celebration and commemoration of the Mormon immigration from Europe to America. Two large, historic sailing ships were commissioned as part of the celebration, and sailed the same route that the pioneers had taken. Their sacrifices became so real to me, and I was filled with gratitude for being allowed to live in a time and in a country with religious freedom. After that trip, I no longer took it for granted.
The journey ended in New York just weeks after 9/11, and it was quite an intense experience. The classic question of how a loving God could possibly allow such awful things to happen became pressing. Exactly 10 years later I was to feel the effects of a new act of terror, on the 22nd of July 2011. My husband worked as a paramedic in addition to his studies, and was on duty that day. He was both at the site of the bombed government buildings, and then was sent to Utøya where 69 youth had been massacred.  Hearing him recount the atrocities he witnessed made me very angry towards God. His apparent absence came crushing over me again. But then a few lines from one of the songs of the pageant that my mother had directed during SeaTrek came to mind, and comforted me. I had been in the pageant choir, and the pageant was based on the true and dramatic conversion story of the pioneer woman Anne Kristine Knudsdatter, who emigrated to America in 1853.
»Heaven can seem so far away, a place so distant that no one can see it. It is so easy to lose sight , to forget to pray. Where are you when people suffer? Why are we here anyway? Du you really still love us? Do you even think of us where you are? Tell me why heaven seems so far away, far from my daily life – hurry and show me your way (path).  Because Heaven seems so far away. But sometimes I catch a glimpse of a future so redeeming and  mild. A future I am helping create, and I know I can do it, if I really want it.»

I do not have a satisfactory answer to the  questions of why there is so much injustice in the world and why heaven at times can seem so far away. But as it says in the song I quoted, I have glimpsed the light. I have felt the power of God in my heart and I have received answers to my cliché-filled and simple every day prayers. Why it happens – I don't know – but I have not been able to deny it.
So now I have shared a few experiences and thoughts around my faith in God and prayer. You probably think 'and then she lived happily ever after in her faith'  – but nothing could be further from the truth.
One of my criteria for  my future husband was that he was to be Mormon, like me. I used to imagine how we would have the same goals  and guidelines. To be married in the temple and to know that we were sealed for time and all eternity provided a wonderful sense of security and gratitude. My dream scenario lasted for 6 years, but then he went through a process that led to him ultimately losing his belief in the particulars of Mormonism. I tried to be understanding, but mostly I was just very angry, disappointed and felt I had been betrayed. This wasn't what I had envisioned for our marriage. The biggest reason for my anger was that I recognized a sneaking doubt and crack in my own testimony, and I didn't want that. I felt like it was his fault – that he was 'forcing' doubt to surface in me. This was of course not real. He was not trying to influence me in any direction at all.  I became curious as to why he had changed his mind, how such a wise man could lose his faith in the church that his entire  family belonged to. Did that mean that I was just stupid, since I still believed? What had I not seen? Was I wearing blinders? Was it all built on a lie?
One thing led to another, and the cracks in my 'looking glass' grew and suddenly my whole world looked different. I was questioning everything, and life was no longer simple, clear cut and sensible, and there was no happy ending. I seemed to be able to rationalize all my previous answers to prayer, and God seemed so far away  – both in my life, and in the world in general. We are all different, and for some these doubts would not necessarily create a crisis of faith, but for me they did. My spiritual identity was under attack in a way I had never before experienced.
It was tempting to just give up and 'run away'. Ruminating over existential questions is hard! But I knew I had caught glimpses of light, that God had been involved in my life. Then surely he would provide guidance during this, the most important battle of my life?  I demanded it! In the gospel of John we read ' Let not your heart be troubled: ye believe in God, believe also in me. ' Because  faith in God does not set the path around , but through evil.  I decided to double my efforts , so I at least could say I had tried, before I eventually closed the door. Here is what I did.:
1. Fasted and prayed. It worked. 🙂 Receiving answer to prayer is amazing. That surpasses everything for me. I have received answers before, but not to the extent that I did now when I really needed it the most. The fact that I can say  ' I know, I know!' is a wonderful feeling. I hate fasting, because I love food and really don't like being hungry. But now I did it with an earnestness that was new to me, and it had been a while. New thoughts came to me at a rate and in a way I had never before experienced. They didn't come from me – that 's for sure. Through fasting and prayer I really experienced that God kept his promises. 'I will be with thee: I will not fail thee, nor forsake thee.' 'Come unto me, all ye that labour and are heavy laden, and I will give you rest.'
2. Had conversations with those near and dear to me. I am blessed in  that I can't go very long without relieving pressure. That helps me to express myself; get it out, so to speak.  My parents have taken my doubts and questions very seriously, without ever judging or wanting to change me. That has meant the world.
3. Read blogs and listened to podcasts. ( I can't seem to bring myself to get through all the big fat books in English my husband bought – blogs are the 'light' version!) It has been important for me to read articles and blogs that bring light to the different subjects from differing points of view. Some subjects have been very challenging for me to embrace, but I have wanted to do it to gain a greater understanding for my husband's choice and others who lose their faith. It has helped me to no longer feel angry or betrayed. I am not married to the church. I am married to a wonderful and amazing  man. Mutual respect has made it possible for us to live happily together, even with diverging views on life. It has been refreshing and freeing to discover that there are other members of the church who have struggled with the same questions and doubts that I have. And one thing I certainly have learned about cyberspace:  you are rarely alone. 🙂
4. Read  the Bible and the Book of Mormon. I have a slightly ambivalent relationship to the scriptures. One the one hand they basically work like sleeping pills for me. The antiquated language simply puts me to sleep. In addition, there are things I find provoking or that I simply don't understand. But at the same time, there are many beautiful scriptures that have touched to my heart , that have strengthened my faith, and warned me. Those scriptures keep me reading.
5. Listened to the prophet and the apostles. Twice a year the church holds a general conference where the our leaders speak to the members all over the world via satellite or internet transmission. The last few conferences I have listened especially closely and been open to their messages in a different way than before. Some of the talks have been as if they were written especially for me. The words have penetrated my heart and given me a greater understanding, stronger faith, and a feeling of acceptance.
6. Attended church and really tried to follow what  I am learning there. I feel at peace in church when I partake of the sacrament  and when I teach the youth in Sunday School. Sometimes things are said that I don't necessarily agree with, but I still feel at peace. I try to live what I learn, and do what makes sense to me. I have seen the fruits of my choices so far in my life, and thay have been good,  without exception. 'Peace I leave with you, my peace I give unto you: not as the world giveth, give I unto you. Let not your heart be troubled, neither let it be afraid. ' The Holy Ghost, which is what I believe this peace to be, witnesses to me that I am in the right place, and that I am to continue on the path and in the direction I am going.
My husband has also done all the things I have described above. He has really not taken this, his search for truth, lightly. So why has he not come to the same conclusion as me? Doesn't God 'want him'? This has been perhaps the hardest part of this process. There is nothing I have overlooked. I am not wearing blinders. But I have accepted that it is possible to see the same occurrence with different eyes. Who is wrong or who is right is actually not relevant. What is important is where it takes us.
I have had to look at my church and God in light of what bothers me. There are still things I question, do not agree with  or wish were different about Mormonism. My looking glasses have slightly different lenses now. But I cannot find a reason big enough or good enough to 'break up'. I live with my doubts and I am at peace with that. Instead of feeding my doubts, I choose to nourish my faith. Because faith has a lot to do with choice. In the end, we cannot be 'certain'. Coincidence? God? karma? Buddha? Allah? I  find what I believe in to be marvelous. The greek word Gospel means good news. The good news is that Jesus Christ has atoned for the entire humanity, and that we are loosed from the bands of death. Through Him I can have eternal life and be with those I love most for all of eternity. To achieve this there is marked path, and how to stay on that path is revealed in the scriptures and through the prophets.
I believe that God helps all His children, whether we want Him to or not, whether we acknowledge Him or not. I believe God is present in my husband's life and has a plan for him. He 'wants' all of us, but we have different journeys to travel. As long as we are true to ourselves and the light and truth we have received, I think God is satisfied. One day I will receive answers to all the questions I have. In the meanwhile I choose faith before doubt, and I  find joy in belonging to the church that I find  best for me!
This post apperared first  on the blog 'Mormonkvinner'.